Resorts
Finolhu Baa Atoll Maldives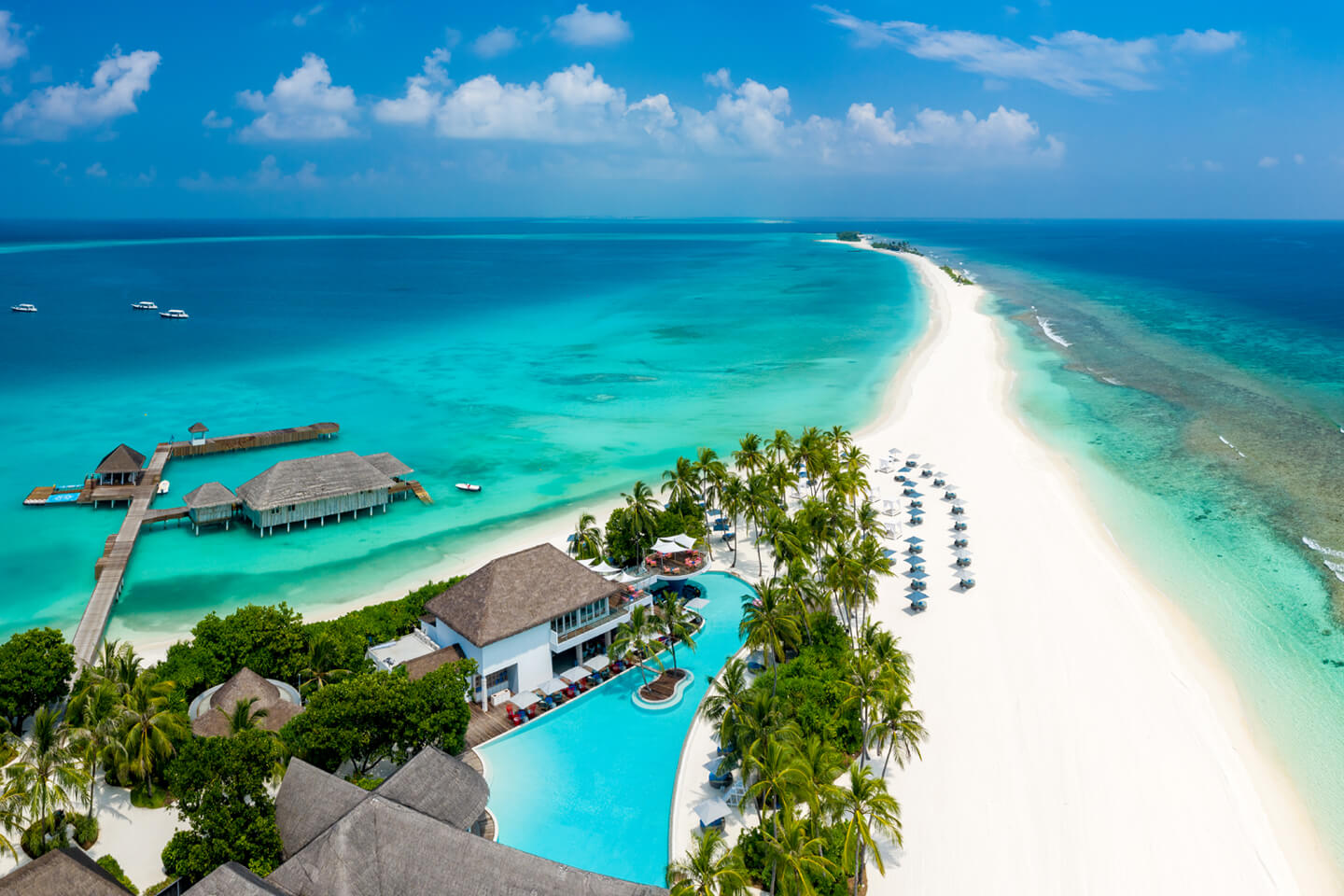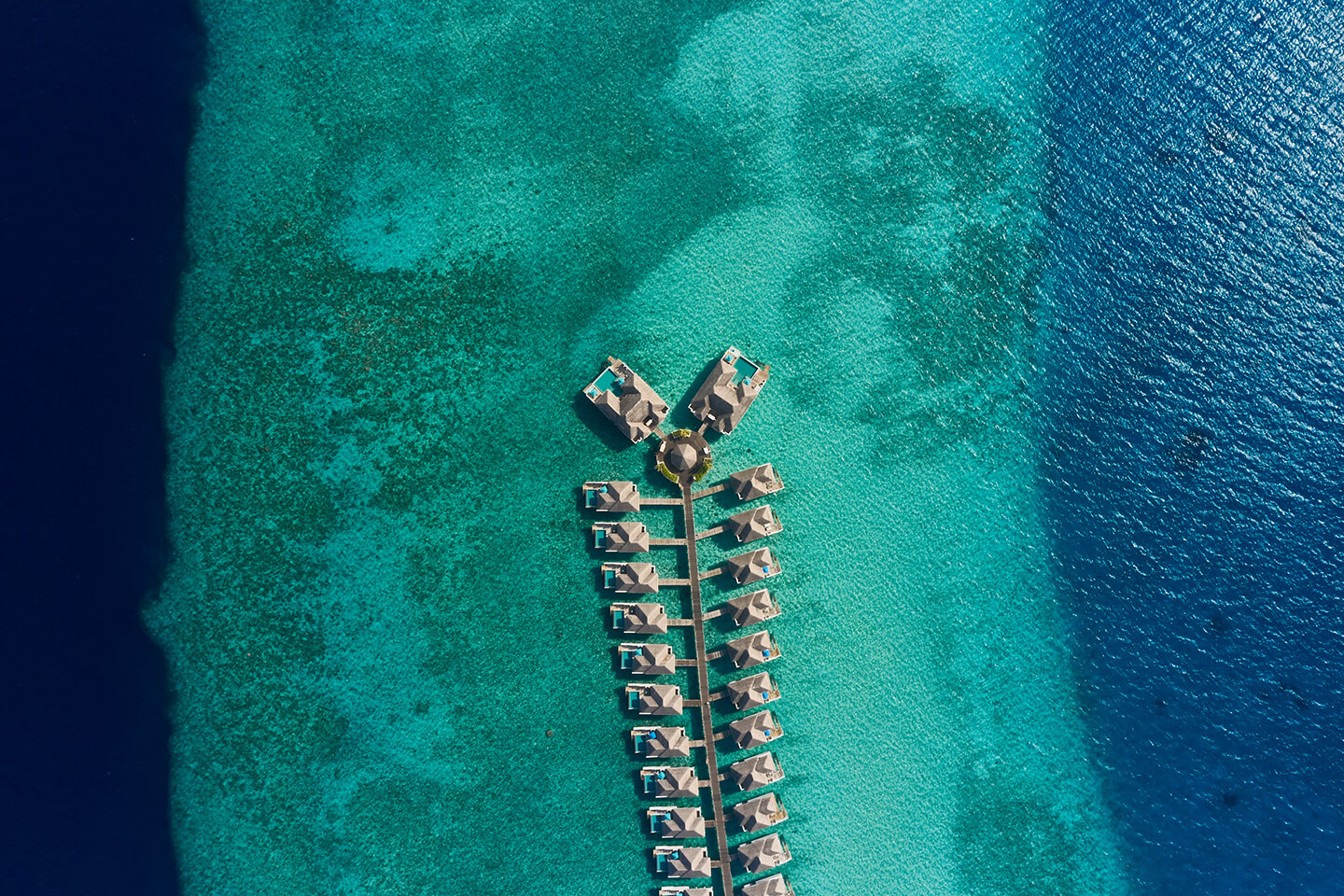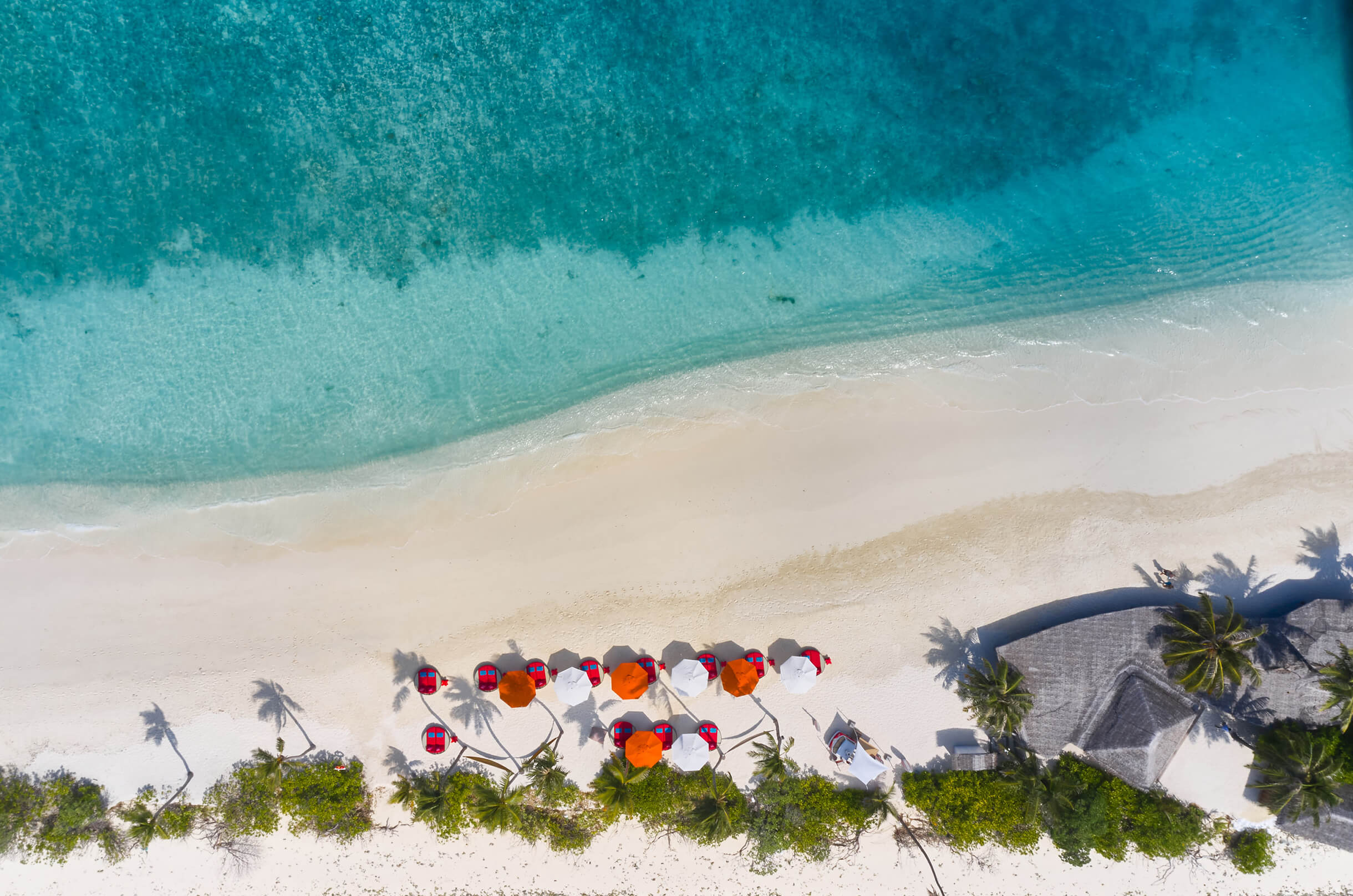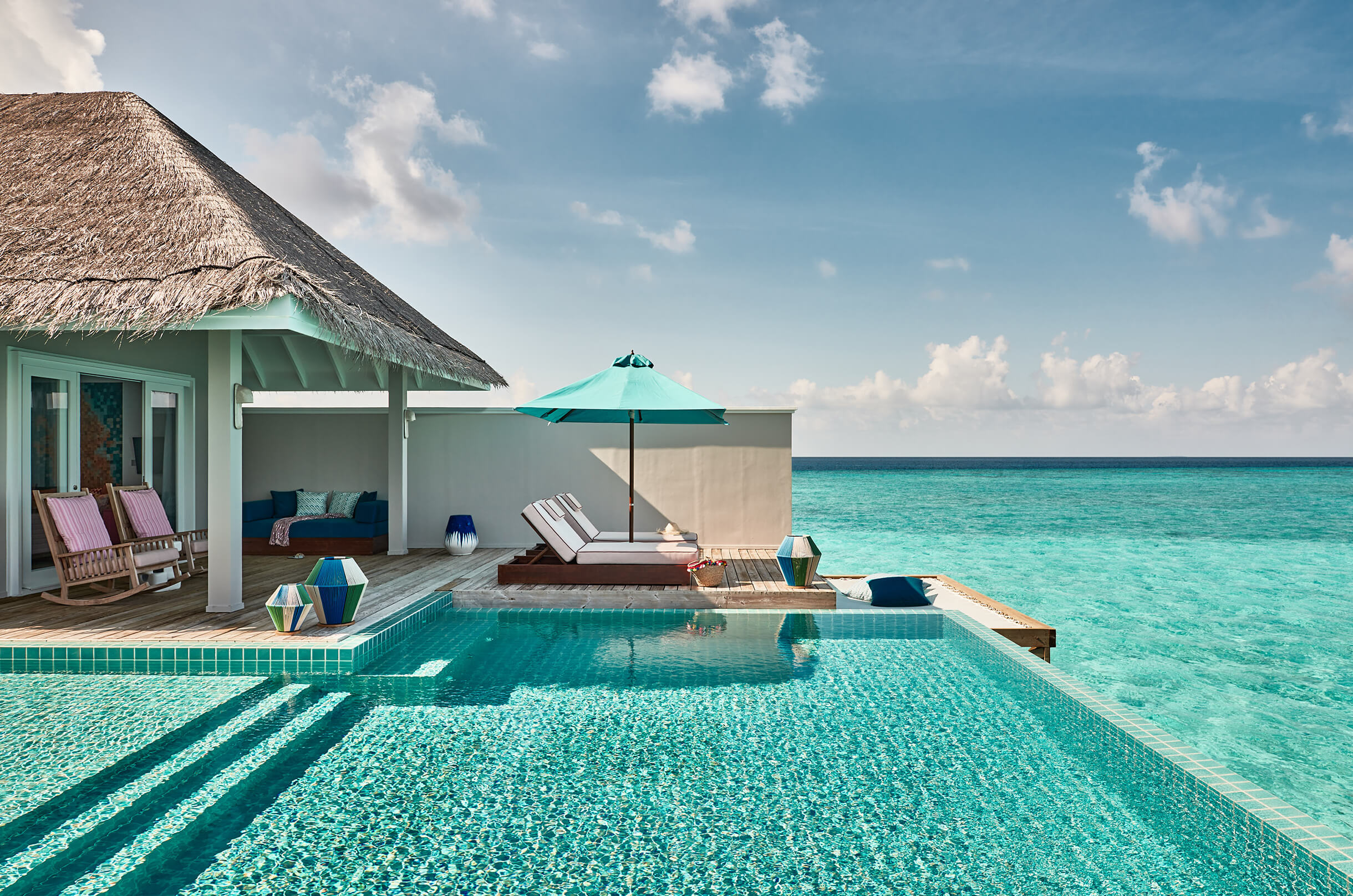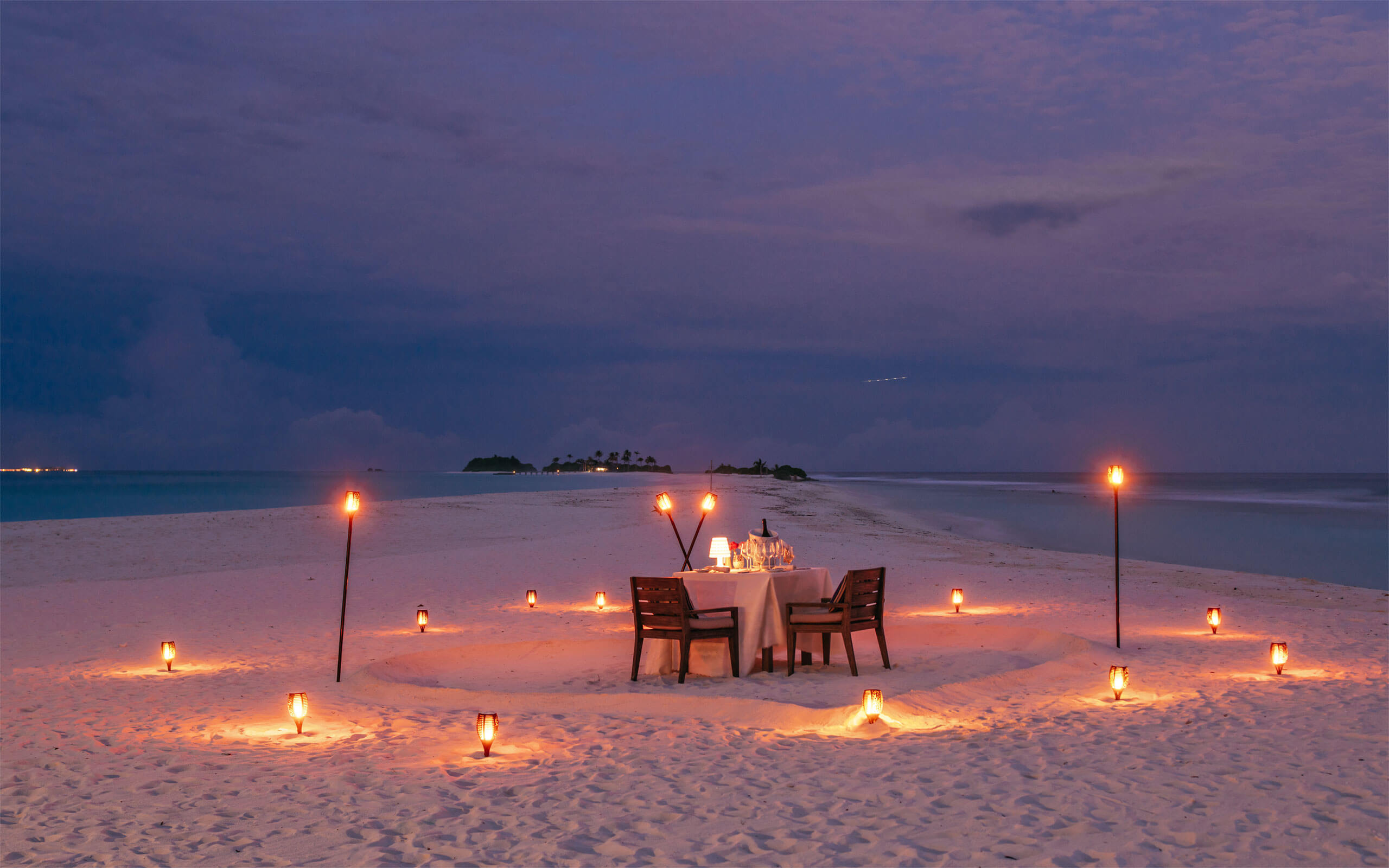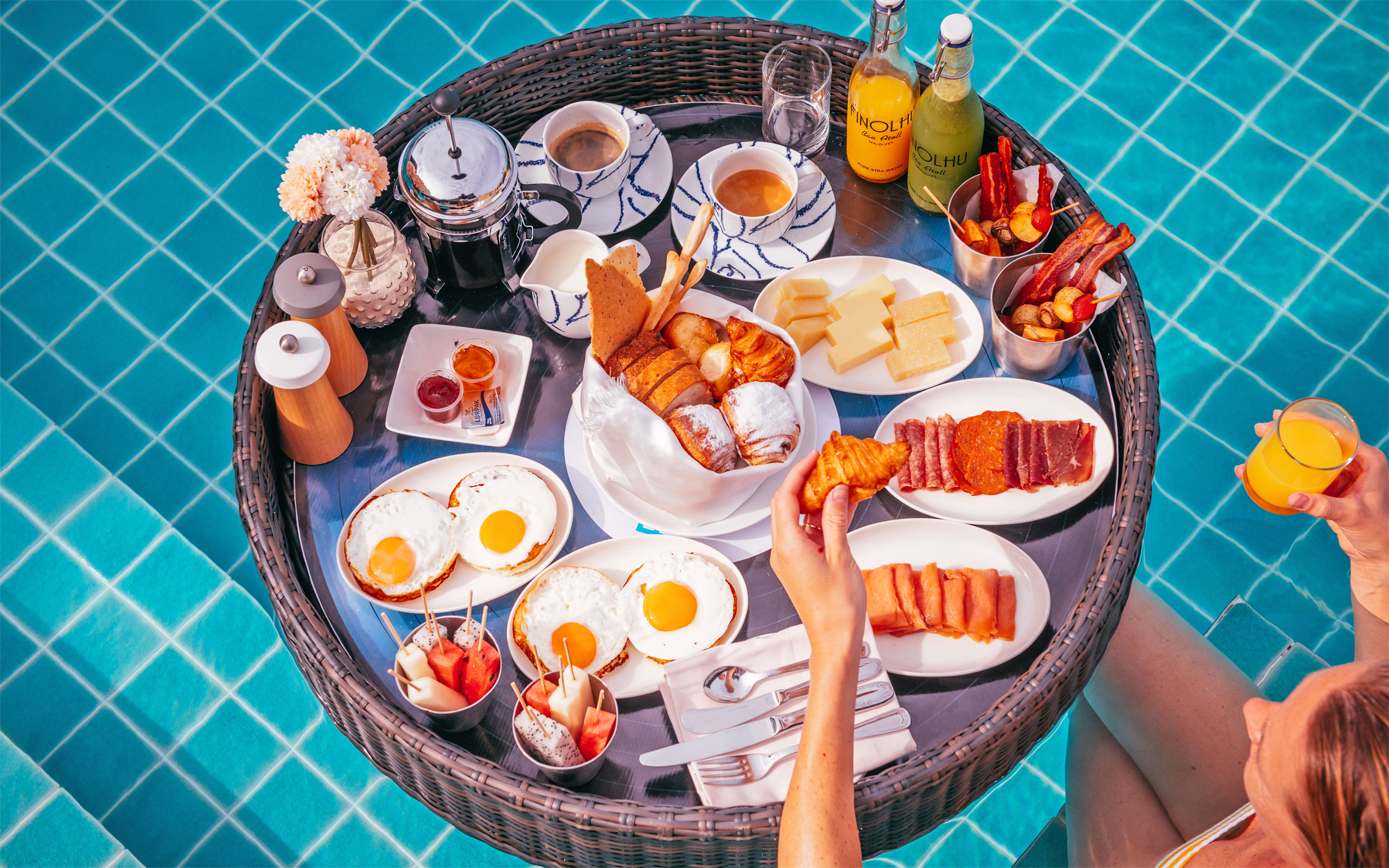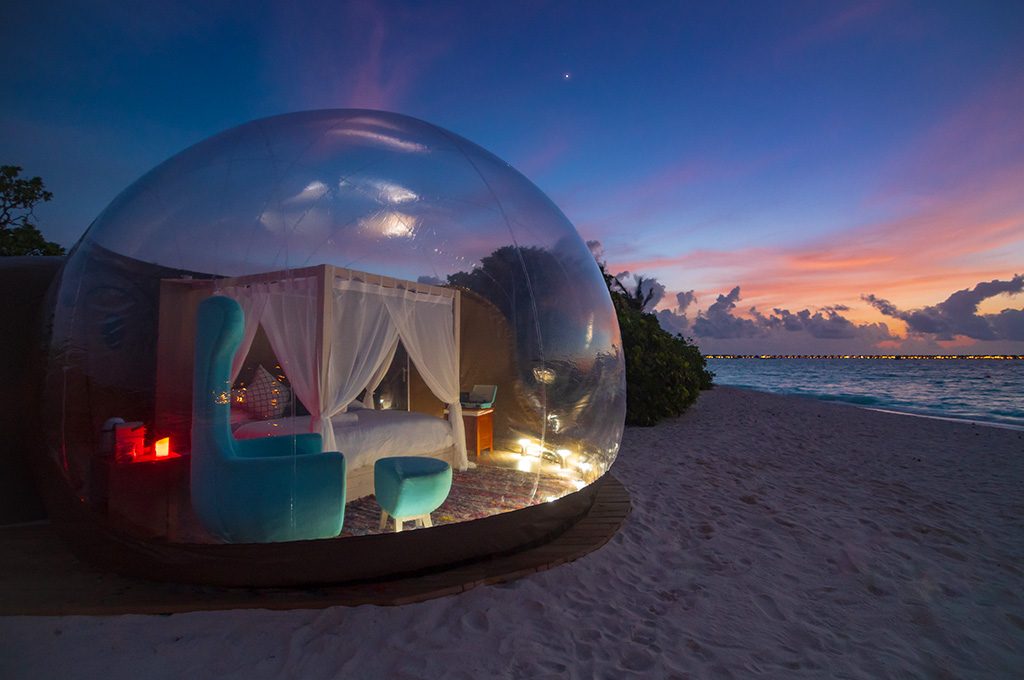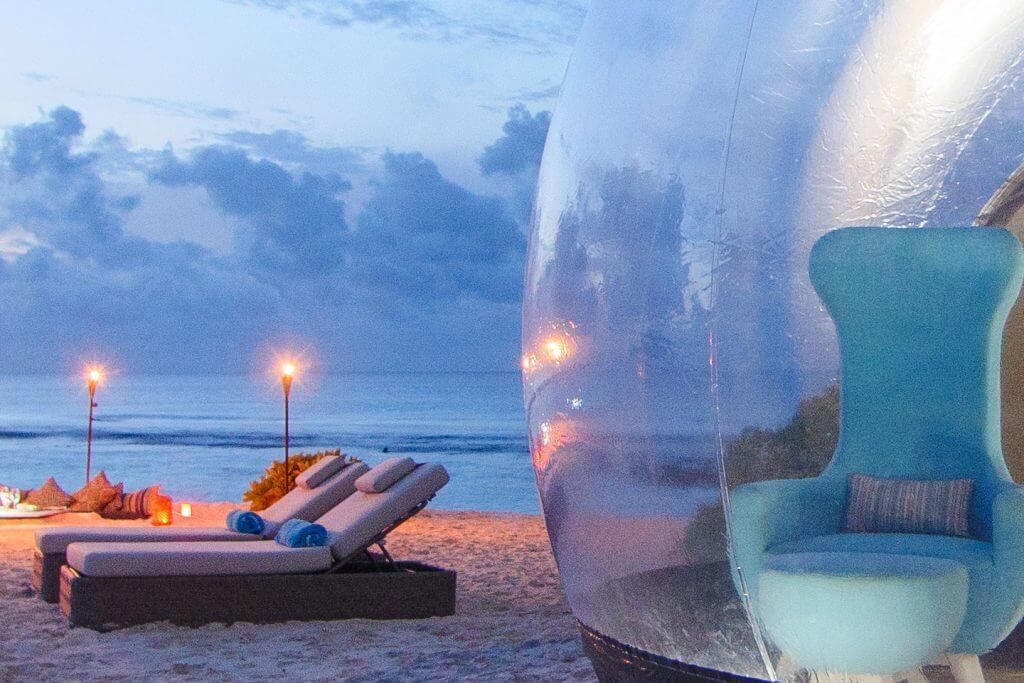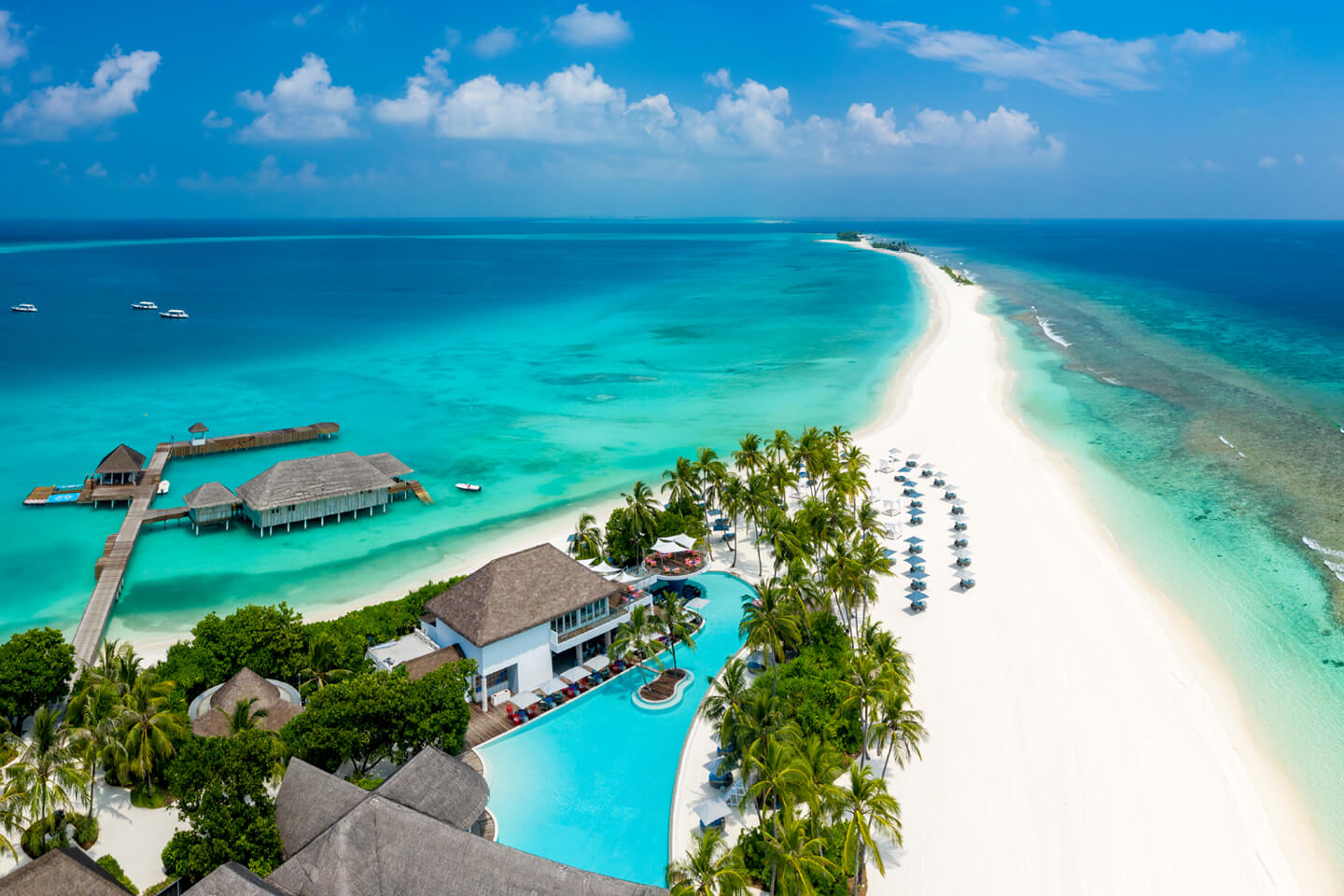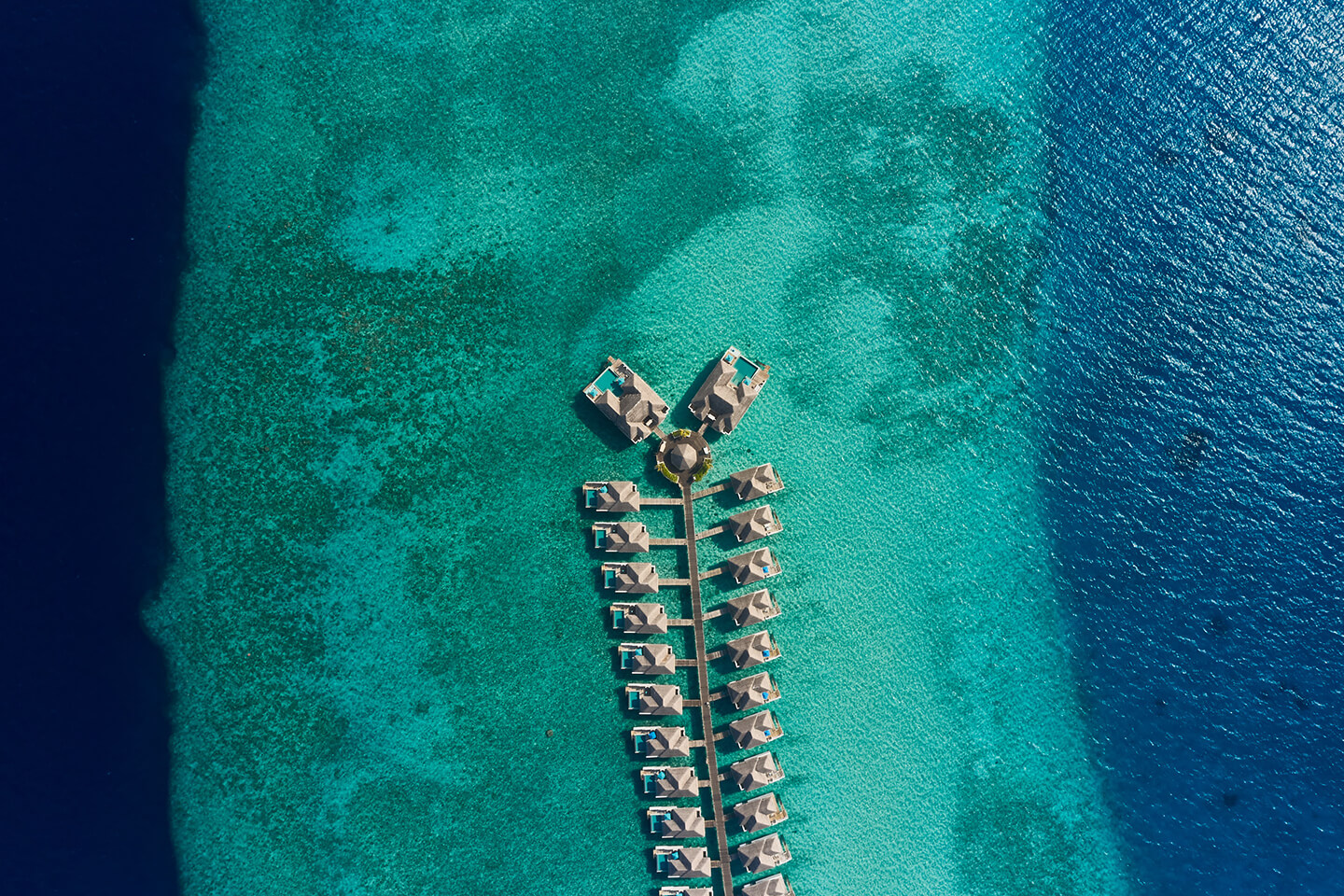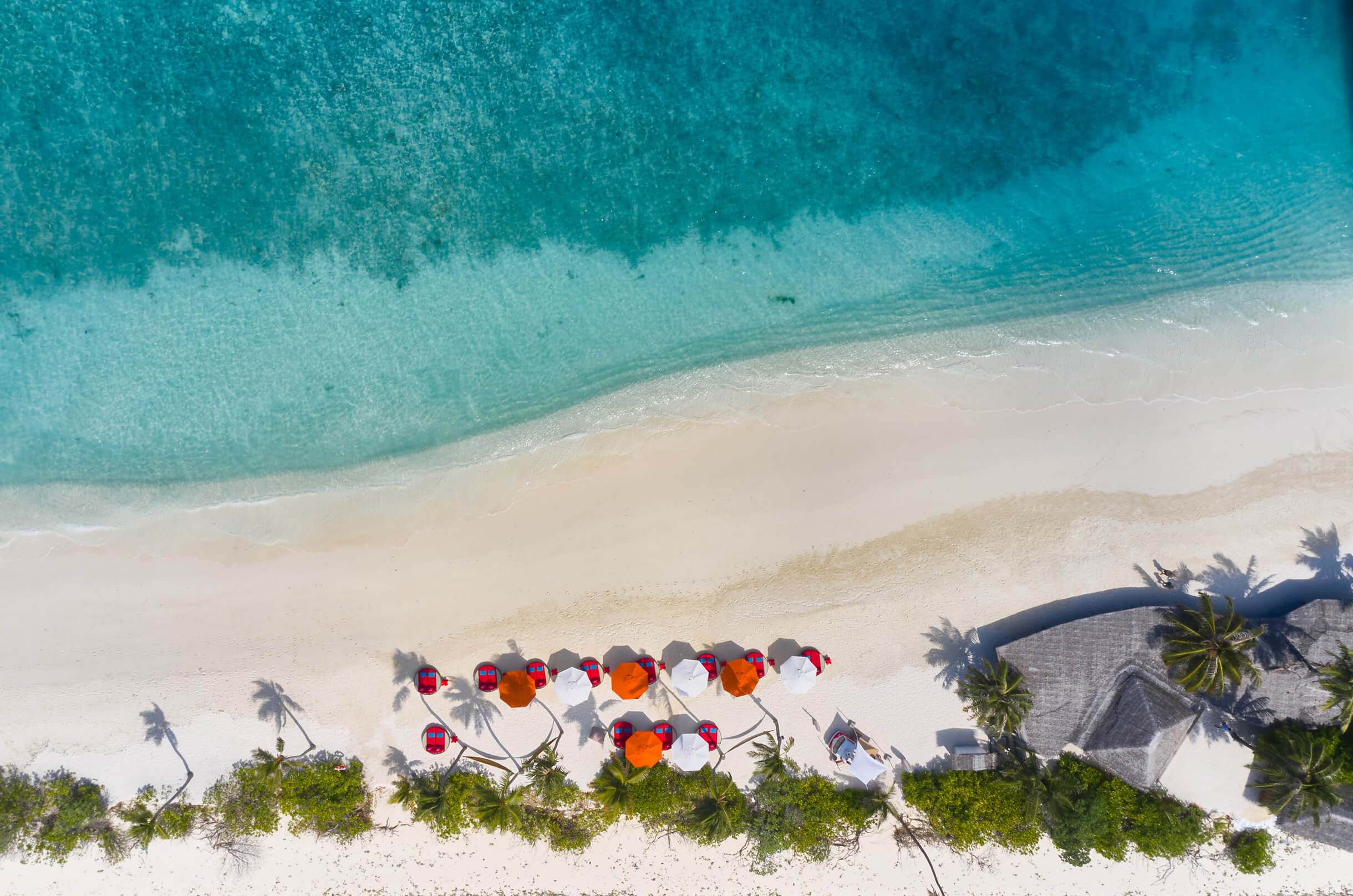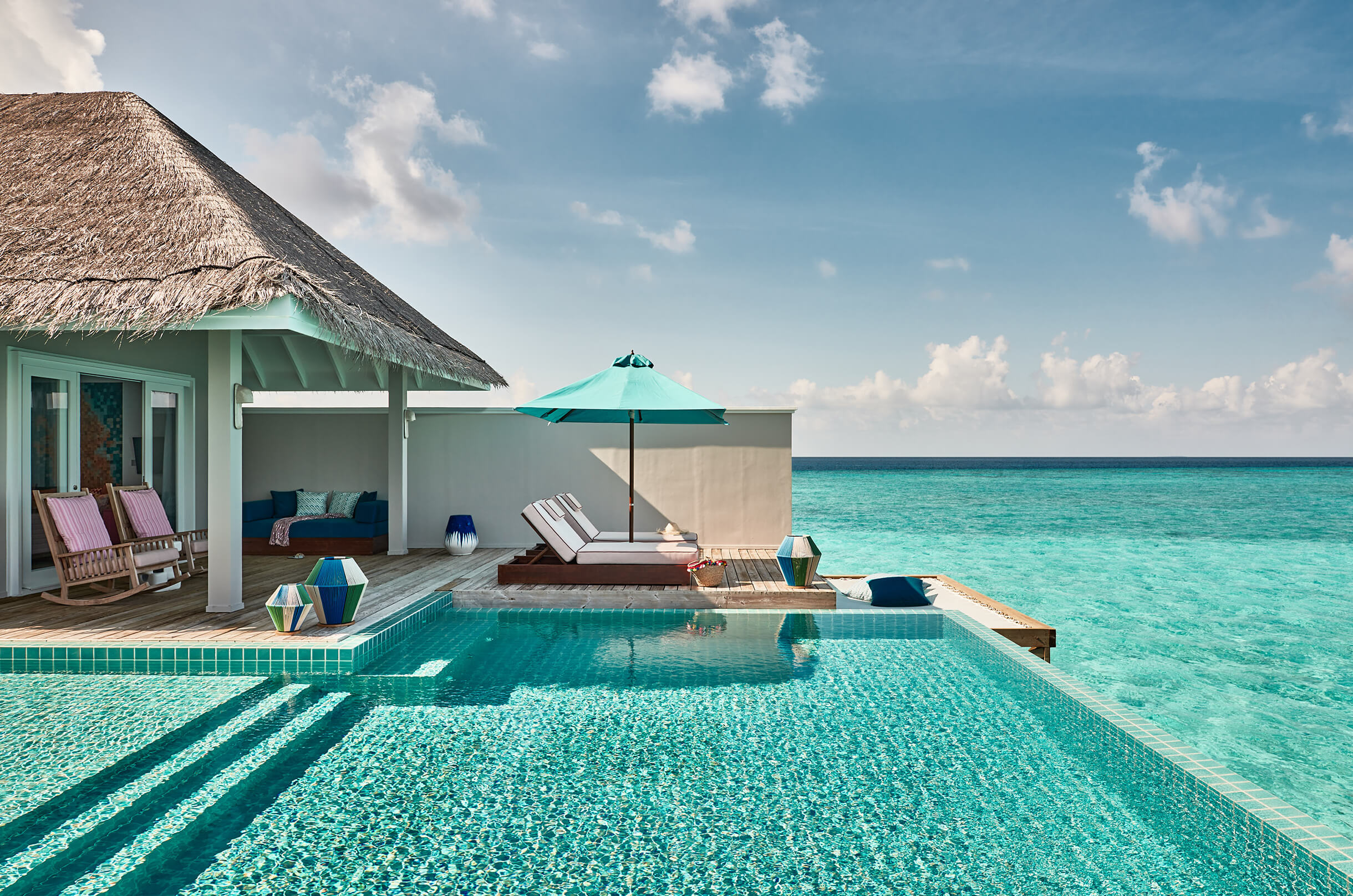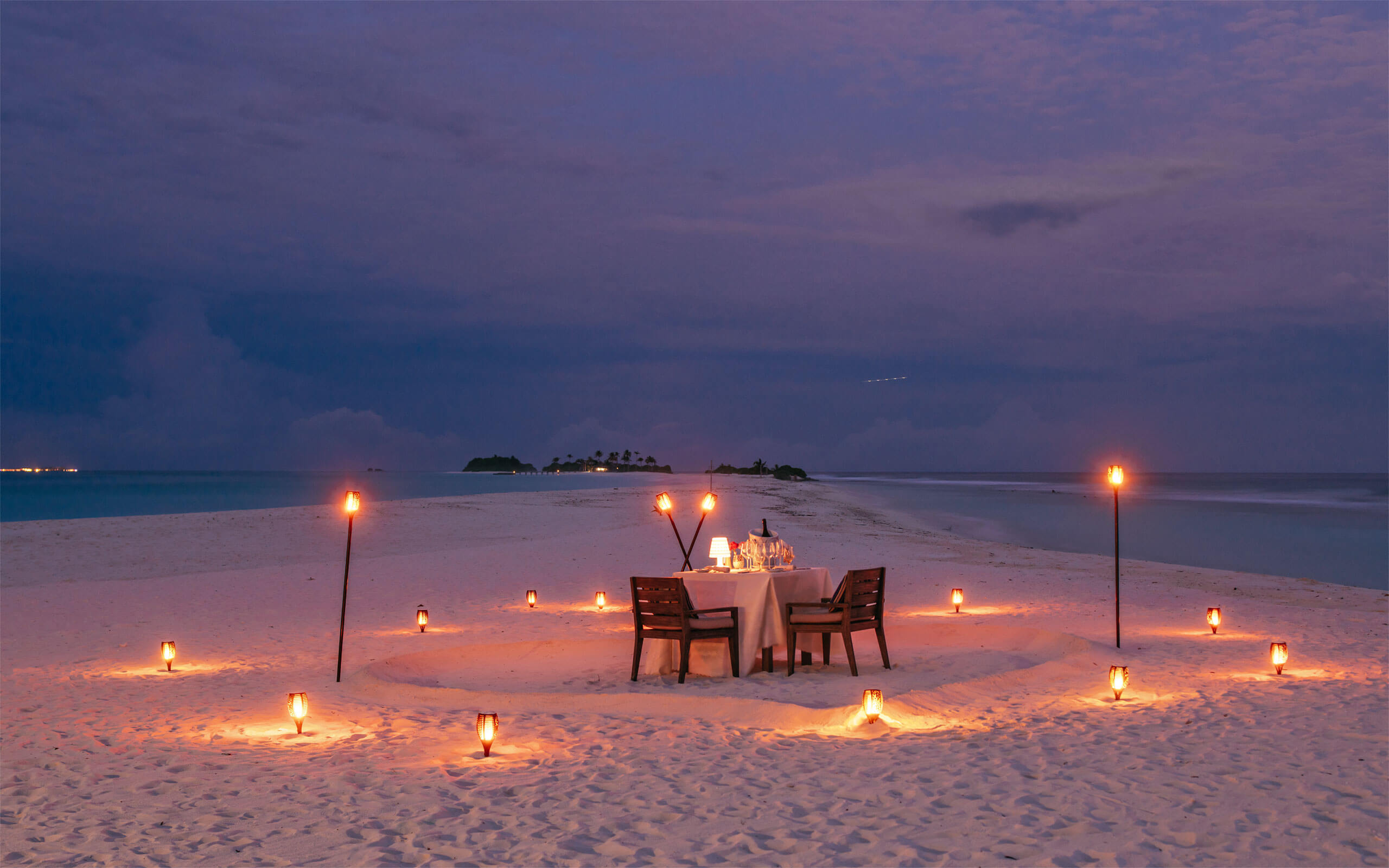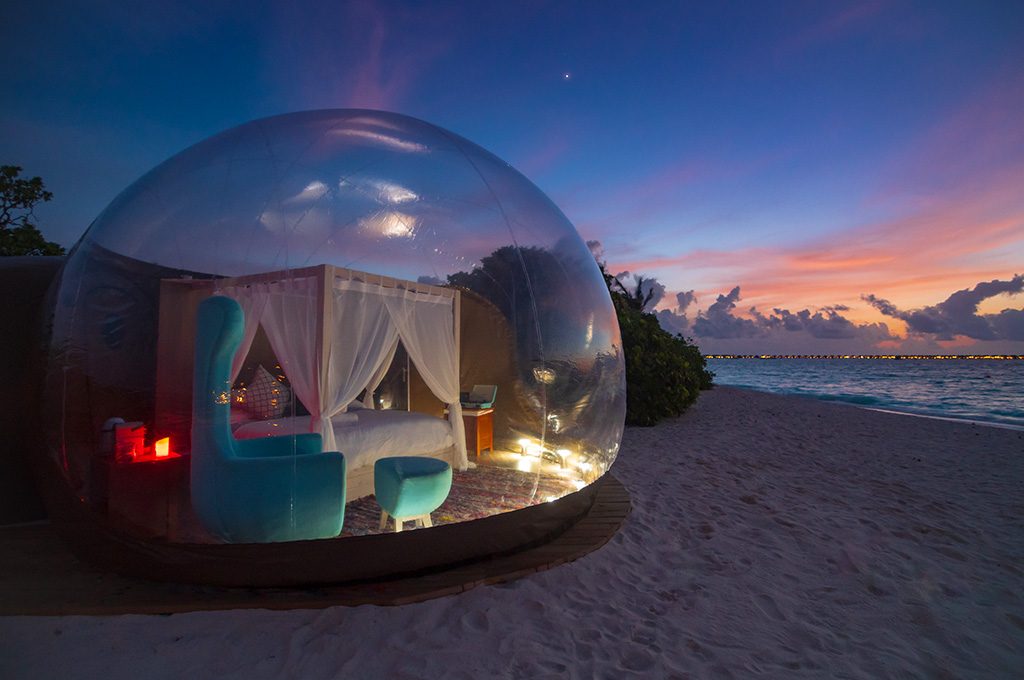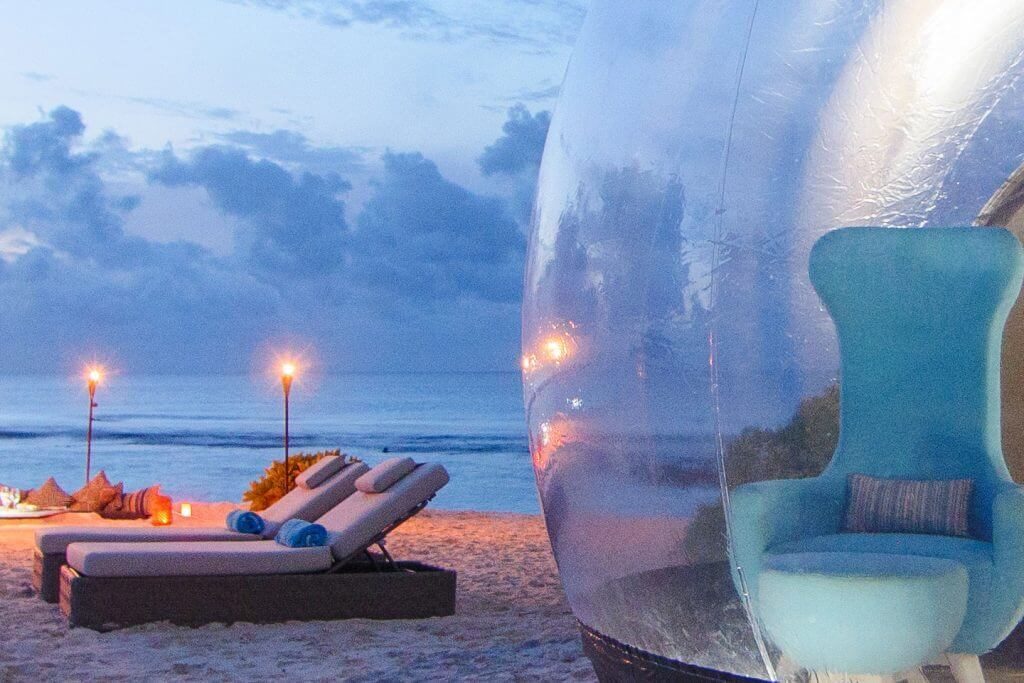 Resorts
Finolhu Baa Atoll Maldives
Location:
Baa Atoll, Maldives
Spa
Diving Facilities
Water Sports
Kids Club
Swimming Pools
Cafes & Restaurants
Pool Bar
Resorts
Finolhu Baa Atoll Maldives
Location:
Baa Atoll, Maldives
Spa
Diving Facilities
Water Sports
Kids Club
Swimming Pools
Cafes & Restaurants
Pool Bar
Property Details
In translation Finolhu means "sandbank". Opened in 2016, Finolhu is one of the best beach resorts in Maldives. It stretches across four islands and its beaches are about two kilometres long. Tropical plants line the sandy paths of the main island like in a botanical garden. As a guest in Finolhu you immerse yourself in different worlds, and not just underwater. With its 125 private villas and four restaurants, our resort is as varied as the coral landscape of Baa Atoll.
Those looking for tranquillity can surrender to the music of the waves and the turquoise blue of the sea. In the evening they can take a stroll across the sandbank to the Crab Shack and enjoy the sunset with drinks and snacks and that Robinson Crusoe feeling – highly instagrammable. Those who – like dolphins – prefer doing things as a family or group can create an eventful day for themselves, including diving, snorkeling or a trip by boat or catamaran. Or what about a casual evening at one of our parties by the pool bar? Cara Delivingne and Paris Hilton have already been there. Yes, Finolhu is definitely a place for individuals, but its fascination has side effects. After your holiday on our sandbank you'll probably have difficulty getting used to ordinary everyday life again!
Family Honeymoon Diving Luxury
Room types
Lagoon Villa
145 Sqm
Max 3 Adults
The view from this amazing lagoon villa in Maldives over the lagoon with its endless shades of blue is something you'll never tire of. Here you have 145 m² / 1560 ft² of living space directly on the water, with plenty of room to stretch out and relax on the loungers of your private wooden deck. Your very own jetty leads directly into the sea. Another drink from the fridge perhaps, and your favourite music from the wonderful Marshall sound system? Unbeatable!
---
Beach Villa
205 Sqm
Max 3 Adults
In our Maldives beach villas you're guaranteed to get that Robinson Crusoe feeling. There's a view of the green garden directly from your bed. Immediately behind it there's the beach and the turquoise blue sea. Its light colours give this fine 205 m² / 2206 f² garden residence a lightness and freshness. At the back there's a spacious bathroom with tub and shower and an open-air area where you can look at the stars while you take a shower.
---
Private Pool Villa
205 Sqm
Max 3 Adults
The secret of life is to take everything a little easier. Here you'll come a little closer to discovering the secret – and do so barefoot! With its 205 m² / 2206 f² of living space your villa has its own tropical garden, sun loungers on the beach, its own pool between the terrace and the sea and a movie-style outdoor bathroom. After a holiday in this Maldives private villa you'll feel as light as an ocean breeze
---
Ocean Pool Villa
180 Sqm
Max 3 Adults
During the first few days you'll hardly be able to sit quietly in this Maldives ocean villa. You'll be so thrilled that you'll want to be taking photos all the time. Photos of the narrow verge between the pool and the sea. Of the sky. Of the pastel shades of the pretty interior. In this 180 m² / 1938 f² villa your holiday directly on the water will be a special experience both day and night. Pole position or pool position? Here you've got both!
---
Beach Pool Villa
205 Sqm
Max 3 Adults
Experience comfort and unwind in our Maldives beach pool villas. Wake up to the sight of the lush garden directly from your bed with direct access to the beach facing the beautiful blue lagoon. Retreat to your spacious bathroom with tub and shower, or enjoy the open air area before dipping into your very own private pool. Enjoy a quiet afternoon on your sun loungers reading a good book, and at night admiring the stellar views. Your spacious beach pool villa boasts 205 m² / 2206 ft² indoor and outdoor area with contemporary décor and interesting mix of colours and giving this fine residence a feeling of lightness and freshness.
---
Two Bedroom Water Pool Villa
460 Sqm
Max 6 Adults
It's like being on a yacht that doesn't sway. Joy that doesn't end. A stay that couldn't be more heavenly at Finolhu Maldives pool villa. This sums up your holiday by the sea on 460 m² / 4951 f² of living space. In addition to an enormous sun deck, these villas also have a pool with a length of eight metres, king-size beds in the two main bedrooms and two luxurious bathrooms. Wi-fi connects you to the outside world so you can also amaze your friends on social media.
---
Two Bedroom Beach Pool Villa
530 Sqm
Max 6 Adults
Have you ever dreamed of being amongst best water villas in Maldives on a white sandy beach? This one will make your dreams come true. It's 530 m² / 5705 f² in size, suitable for families or a group of friends. All the rooms are whitewashed and perfectly equipped in light, summery colours. There are two master bedrooms, separate bathrooms, a 10-metre pool and a view to die for of the sunset side of Finolhu. You can relax with a drink on your own private beach. The opportunities are endless here – from open-air dinners to a private party on the beach.
---
Two Bedroom Rock Star Villa
460 Sqm
Max 6 Adults
These Maldives luxury villas are reminiscent of a quote from Oscar Wilde, the rock star among writers: "One should give in to temptations. Who knows if they will come again." Our Rockstar villa is perhaps the most beautiful temptation in the Maldives. It's located at the very end of the jetty and, as you might suspect, everything here is a little larger than life. 460 m² of living area. Two spacious master bedrooms. An 8-metre long pool, infinity of course. Your own wine bar. Bathrooms with tub and outside showers, a 40 inch flatscreen TV and much, much more. And of course the sea, as far as the eye can reach. Ideal for families and friends.
Activities
Beach Bubble Tent
Sleeping under the stars. A romantic night together away from the world. Alone on the sandbank, about 100 metres behind our Crab Shack. A stay in our Finolhu Bubble is sure to be unforgettable. This experience sphere with own shower and WC is well equipped with a wooden floor and a double bed featuring the finest bed linen. Awake or asleep – here you'll experience a feeling of infinity. Above you the cosmos and the blackness of the sky, through which the Milky Way shines like a work of art. Including a private beach barbecue and a breakfast on the beach
Beach Kitchen
It's quite possible that you'll experience a spectacle here as early as breakfast time – for example when a group of dolphins takes centre stage. At Beach Kitchen you've got a front-row seat. Located right by the sea, our diner is the culinary centre of Finolhu. In the morning, at lunchtime and in the evening international dishes are freshly prepared at various sections of the buffet. A wide selection of dishes delights vegans, vegetarians, fish fans and meat lovers alike. On various evenings, our chef and his team serve themed specialties: Italian, Asian, Maldivian, Seafood and more. Really delicious!
Kanusan
This is our fine-dining restaurant. At Kanusan the culinary focus is Asian. The restaurant is located right in the Indian Ocean and can be reached via a short wooden jetty. It has its own bar where you can enjoy an aperitif while you get in the mood for dinner. And you can do this either on the outside veranda or inside the restaurant, which is atmospherically showcased with dimmed light. A place for romantics, where anything can happen while you enjoy authentic Asian flavours. A marriage proposal, for example.
Arabian Grill
At the Arabian Grill our chefs take you on a culinary trip to North Africa. A sensuous feast for the palate, for the nose and even for the ears, when the sound of the fresh meat sizzling on the table mixes with the lapping of the waves. Maghreb spices such as cardamom, cumin, nutmeg, cinnamon and turmeric unfold an all-round feeling of wellbeing – for example in a tajine or delicious mezze dishes containing fish, meat and vegetables – and perhaps the best Hummus outside Tunisia and Morocco.
Crab Shack
Just a minute. Doesn't this little Crab Shack, made of wooden planks, remind us of our dream of living on a desert island? Who strolls from the main island over the sandbank, reaches it in approx. 20 minutes – a great walk. At noon you can enjoy shrimp in the sun with a glass of wine or just have a drink and a few snacks.
Beach Club
This is where it all happens. If you want to hear laid-back sounds you can enjoy the music here from early in the morning until late in the evening. Exotic cocktails to the beats of top DJs? Off to the Beach Club! Pool parties inspired by the slogan "White nights? Off to the Beach Club! A marriage proposal on our upper deck directly under the starry sky? Off to the Beach Club. Performances by world-class artists? Off to the Beach Club
Fehi Spa
or your wellbeing we have put together a range of beneficial massages. Depending on your individual wishes and requirements, we at Finolhu, a featured Maldives spa resort offer an option for every physical type, from the classical Swedish massage to Thai massages and the sun cooler. Our therapists know what's good for you! We'll be happy to advise you individually.
Diving
Life under water is more touchy-feely than you might think. Did you know that fish can hum, whistle, rumble, chirp, squeak, purr and grunt? That a shark's sense of smell is about ten thousand times sharper than that of a human being? That dorados, as marine biologists found out, develop an increased appetite when they listen to music by Mozart? That rays enjoy being touched? During our trips you will not only get to see a lot, but also learn a great deal about the underwater world. Baa Atoll is the world's greatest hotspot for manta rays. From May to November dozens of them come to Hanifaru Bay
Snorkeling
In the morning or at sunset it's a great moment when you take your diving goggles and flippers (guests can rent the equipment for free) and plunge into the water. Perhaps you'll be reminded of the first time you ever stood in front of an aquarium as a child and couldn't believe that fish can be so colourful and varied. This is what our local reef is like but on a much larger scale, and you can reach it from your villa with just a few flicks of your flippers. And those who want the big tour can go snorkelling out to sea with the team. And continue to marvel – for example when a giant turtle rises like a UFO in front of your very eyes
Seabob
For the more adventurous snorkeler, the Seabob allows you to glide underwater at high speed. This underwater scooter gives you a dolphin's perspective on life beneath the waves, and can be used either when snorkeling or diving. Travel further faster and see more of the reef and the amazing underwater life from another point of view.
Marine Biology Trips
Resident Marine Biologist offers unsurpassable insight into the incredible Biosphere Reserve in which Finolhu is located. guests can learn about the ocean, pursue an adventure, experience the coral reef and participate in ongoing research to personally make a difference to our fragile environment
Fishing Trips
For centuries, the Maldivians have lived and breathed as one with the ocean, depending on it for survival and sustenance. Our fishing excursions harness local knowledge and customs for a traditional Maldivian experience. Maldivians have perfected the technique of hand line fishing, and there's no fresher catch of the day.
Experiences
here is nothing more quintessentially Maldivian than a day spent lapping up island life, whether you're seeking solitude, the company of your loved ones or a chance to absorb some local culture. Our carefully selected Maldivian Experiences are curated with Finolhu's beguiling Biosphere Reserve surrounds in mind.
Gym indoor & outdoor
Do you like it indoors or out? Finolhu has both indoor and outdoor gym areas with all the latest equipment. Begin your fitness journey by meeting with our resident fitness instructor who will provide expert fitness and wellness advice and give you the lowdown on how best to achieve your fitness goals.
Kids
Here in Finolhu kids are simply referred to as "Oceaneers". Their Maldives kids club is a world that enchants and encourages creativity – in playing, cooking and baking and of course duringguided excursions on and below the water. At the Oceaneers Club well-trained staff are available for teenagers and toddlers from morning till night. Parents know that their children will be well looked after here for a few hours, and can spend some relaxing time on their own without worries